I enjoy reading books. Recently, I had the opportunity to review a wonderful paperbook called
Bessie's Pillow
by Linda Bress Silbert and published by
Strong Learning, Inc.
.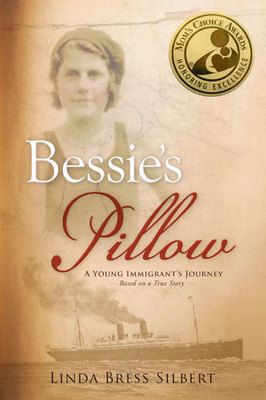 Bessie's Pillow is based on a true story about a young immigrant's journey to the United States and her early life in the United States. The author, Linda Bress Silbert, is the granddaughter of Bessie Markman Dreizen. She has written the book based on about 30 years her grandmother's life from conversations between Bessie and Linda's mother Ann Dreizen Bress.
The story begins in 1906 in Vilna, Lithuania and Boshka Markman is headed to the United States to escape persecution. Before leaving on a train, she was a approached by an old acquaintance asking her to take a pillow with her that her son forgot and to bring it to him when she arrives in America.
From there we are taken through her trip to America. From the grueling process of being checked and cleaned before being allowed aboard the ship through what it was like traveling alone as a young lady. She meets a new friend aboard the ship that helps pass the time. Then when she arrives in America her name was officially changed to Elizabeth.
After her arrangement with her sister didn't work out she lived with her best friend until she gets married. Between that time we get a glimpse into what life was like for both the other immigrants. We also get to read about her married life and raising children of her own.
From the moment I picked up this book I could not put it down!! I laughed when Bessie laughed and cried when she did. There were parts that I was bawling. I think she was a remarkable woman! I don't want to spoil any of this book but this is a must have addition to your library!
Also, included in the book are family pictures along with information on the Eastern European Immigration and the Progressive Era. This includes famous people, food and recipes, news, music, moves, immigration resources and much more.
There is a website http:/www.bessiespillow.com with additional information including an interactive guide with more family photos and information of the time. A teacher's guide for the classroom is also available for teachers to use with Bessie's Pillow.
Reading Bessie's Pillow has also given me insight on what travel may have been like for my great grandfather as a child. There is no known information on his immigration or much about his early life here in America other than the city that he lived in when he came here. His parents died when he was young (around 12 years old) and he and his sister came to the United States to live with a relative. Due to not yet finding immigration records, I have wondered if he either traveled under a different name for the trip or like Bessie, his name was changed at some point.
Please click the banner below for additional Homeschool Review Crew review's of Bessie's Pillow.