Managing my home has been a struggle for me with five young children.  At one point I had five kids five & under.  Now that the oldest is nine and the youngest is almost four it is still a daily struggle to keep up with five very active kids.  Since we homeschool, our children are home more than children who go to a brick & mortar school.  When
The Everyday Family Chore System
 by
Everyday Homemaking
became available for me to review I thought this may be just what we need to get a good chore routine going!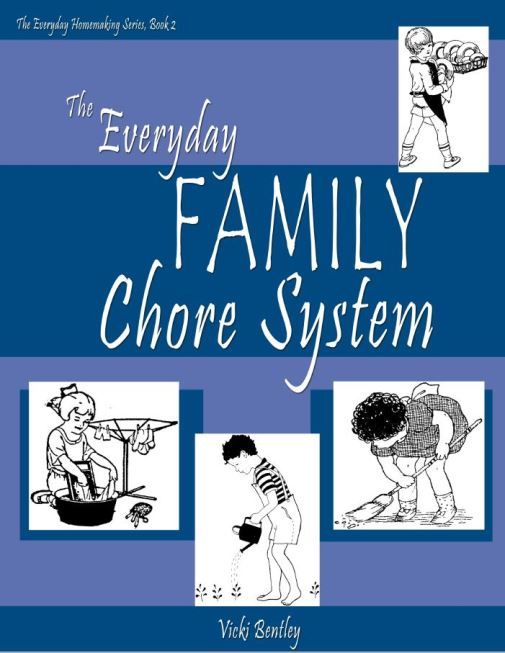 The Everyday Family Chore System is an 88 page e-book written to help us create a routine and lay a foundation for our children.  One that will stay with them for years to come.
The first section of the e-book talks about laying the foundation with four basic principles of laying the foundation including the how to train our children.
Then information about how to implementing the plan follows in the second part. This includes a suggested life skills checklist with age appropriate chores for ages 2 through teens.  I really liked the monthly rotation of chores on page 17 and we are using this rotation for our children. Using this rotation is giving our children the time needed to learn the chores to be able to complete them satisfactorily.  There are also suggestions for when the children are older in the household.
Part Three of the e-book is the actual chore system.  This includes how-to-do-it cards, including blanks to create your own as some household chores look different from family to family.  I created my own chore picture cards so the youngest two (5 & almost 4) had cards that they could understand.
Our thoughts.  So far this system is working for us. It has a concrete time frame (one month) for the children to do a chore.  More of a "fair" division so the children don't think they are always the one to feed the chickens or do the dishes.  Also, easier for us as parents to remember who is supposed to do what and not try to remember who we had do the chore the last time.  I will be interested in seeing how this system continues to work for us four to six months down the road after our children have been able to rotate through some of the other chores.
Social Media Links:
Please click on the banner below for additional Homeschool Review Crew reviews.