The girls and I spend time every day reading books together.  Recently we have had the opportunity to read 
Andi Saddles Up
 and
Andi Under the Big Top
 for a review.  They are the first two books in the new series 
Circle C Stepping Stones
.  The books are written by
Susan K. Marlow
 and published by
Kregel Publications
.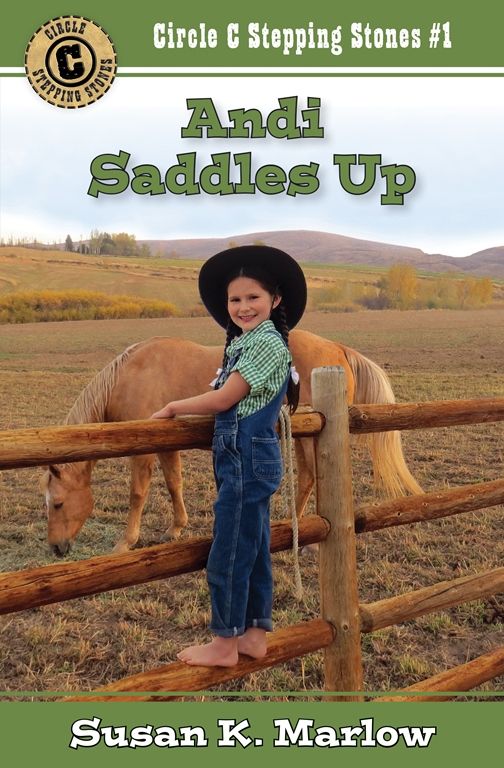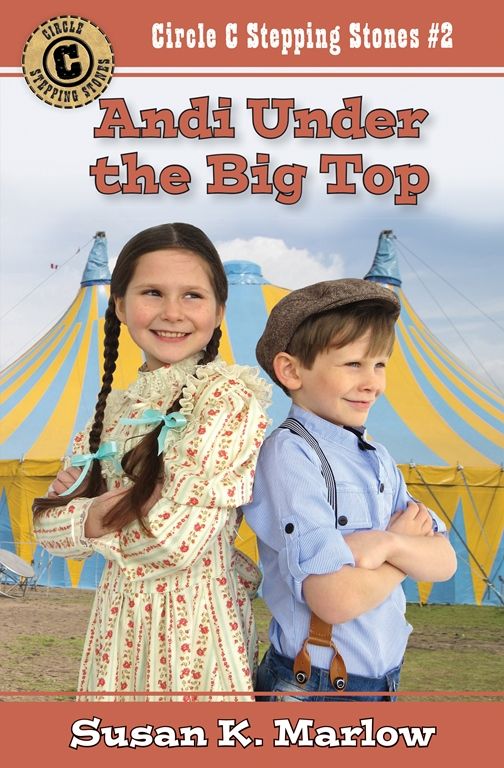 Andi Saddles Up & Andi Under the Big Top are books written for children 7-10 years of age!  They are perfect for beginning readers who are just starting off reading chapter books.  Both books include new vocabulary words and their definitions are in the front of the book.  There are also study guides, coloring pages, and lapbooks available for both books.  The study guide includes comprehension questions, vocabulary to define, math and other fun activities that correspond to the stories.
Andi lives on a ranch in the late 1800's with her mom and siblings.  Her family raises cattle and horses.  Andi has been riding a horse for as long as she can remember.
Andi Saddles Up:
Today is Andi's birthday!  She is excited that she is finally old enough to be able to ride her palomino, Taffy.  She is very excited that she received a brand new saddle for her 9th birthday.  Andi wants to learn a new trick but her brother won't let her because it is not safe.  While at her special spot,  Andi meets Sadie and they bond over fishing.  They don't know it but their families are quarreling over the very land that they are making memories.  Will they be able to stay friends?
Andi Under the Big Top:
It is late summer in 1877 and the circus is coming to town!  Andi hasn't been to the circus since she was little and is very excited to go.  Clowns, animals, and Andi's favorite a champion bareback rider!   She meets Henry Jackson, a young boy working with the circus.  The next day after the circus, Taffy goes missing.  Will Andi find her palomino before it is too late?  Will she be able to help Henry before the circus has to leave town?
Sweet Pea read the books on her own.  As well, I read the books to Sweet Pea, Peanut, and Lil' Bit.  I am looking forward to the next two books that will be released later on this year.  I like that the books are for boys and girls and that the books teach many lessons including honesty and friendships.  The illustrations in the books are beautiful!  They are well drawn.  If you are looking for a new series for your children to read, I highly recommend the Circle C Stepping Stones series!
There are four other books in the Circle C Stepping Stones series scheduled to be released later this year through summer of 2018.
Andi Lassos Trouble (November 2017)

Andi to the Rescue

 (November 2017)

Andi Dreams of Gold (July 2018)

Andi Far from Home

 (July 2018)
Social Media Links:
Twitter (Kregel Books): https://twitter.com/KregelBooks
Twitter (Susan K Marlow): https://twitter.com/SuzyScribbles
Facebook (Kregel Books): https://www.facebook.com/KregelBooks/
Facebook (Susan K Marlow): https://www.facebook.com/SusanKMarlow?fref=ts
Please click on the banner below for additional Homeschool Review Crew reviews of Andi Saddles Up and Andi Under the Big Top.