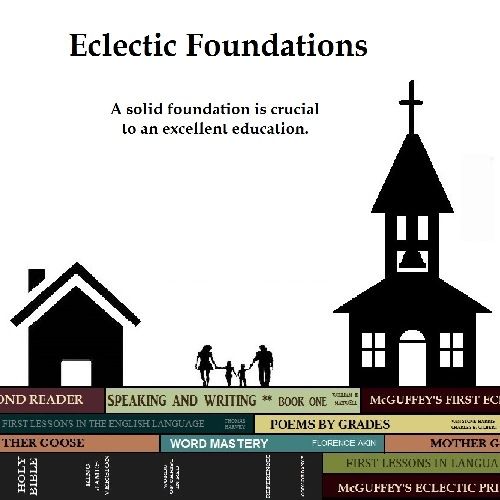 Eclectic Foundations Language Arts Level B
by
Eclectic Foundations
 is a Language Arts program where children are being taught a solid foundation from a Biblical worldview.  Sweet Pea and I had the pleasure of reviewing Eclectic Foundations Language Arts Level B.
Currently Eclectic Foundations offers three levels (A, B, & C) in the series.  Level D is expected to be released later this year.  They use McGuffey Readers which were used in the public schools from 1836 until the 1960's.  McGuffey readers are not written towards any specific grade level but each one in progresses in difficulty and complexity.
When choosing which level to ask for, it was suggested that those students who could read but had very little grammar knowledge start out in Level B.  Level B is geared towards first and second grade students however, third and fourth graders can also use this level.
We received the PDF version of Eclectic Foundations Language Arts Level B which included:
Teacher's Guide
Student Workbook
McGuffey Word Cards
Phonics Practice Sheets
You will need a copy of McGuffey's First Eclectic Reader (revised edition) which can be found digitally for free on the internet.
I printed out everything but the McGuffey's First Eclectic Reader.  I had Sweet Pea use the computer to read the reader.
This program has 144 Lessons that take approximately 15 to 20 minutes per day to complete.  Completing four lessons a week will give you 36 weeks worth of material for your school year.  During the lessons, your student will cover handwriting, poetry, reading, phonics, and grammar.
Teacher's Guide ~ While it is not scripted, the teacher's guide is written so that anyone can teach the lessons.  The answers are in the guide next to the question.  There is no need to keep flipping to another page to check the answers.
Student Workbook ~ The student workbook is a no frills workbook printed in black and white.  This is perfect for the easily distracted child who is distracted by color and graphics. The pages include their word lists, handwriting & copy work pages, poetry, grammar pages, and other pages that correspond to their lessons.
McGuffey's Readers ~ Students will read lessons from the McGuffey Readers.  They identify parts of speech and color word cards to match the parts of speech.  The word cards are then used to review the words and their parts of speech until they can be read fluently.
Phonics ~ These are short word lists that students use to practice reading until the words become second nature to read.  After learning the words they will be practicing how to spell them.  These lessons are not formal spelling lessons and you can give as much assistance as needed.
Handwriting ~ Children are introduced to cursive handwriting in Level B.  The first 26 lessons cover the letters of the alphabet in cursive.  After students cover the alphabet they begin working on copy work in cursive.  After lesson 32, it stops specifying in the teacher's guide to write the copy work in cursive.  It may be a given that the students will be writing it in cursive after this point however, further on in the student book the copy work passages are in print.  If it is intended to be continued in cursive my suggestion would be to print the copy work in the student book in cursive.
Poetry ~ Students read a different poem every week.  They answer comprehension questions as well as identifying rhyming words.
Grammar ~ These short lessons are designed to introduce grammar to the young children,  Words are provided for the teacher in bold and the answers are provided next to them in parenthesis.
Our Experience ~ Having shorter lessons has been a blessing for us.  With having five kids, including 2 preschoolers who don't nap, having big blocks of uninterrupted time is rare.  Someone is always needing something whether it is help with their school work or asking me a question.  We are able to complete a full lessons with very little to no interruptions.
Sweet Pea has found the reading to be "too easy" for her at this point.  She does protest some about having to read since she already knows the words.  I have looked ahead to later lessons and I believe once we get past the simple words for her this won't be an issue.  With the minimal supplies needed I think the curriculum is perfect for on the go homeschooling!  This is great for the times when we like to take our schoolwork with us to the park.
Social Media Links:
Facebook:  https://www.facebook.com/eclecticstudent
Please click on the banner below to read additional reviews from the Homeschool Review Crew!