Are you ready to go exploring around the world, visiting many countries and learning all about them?
Let's Go Geography
is a fun and engaging Geography curriculum that my family and I have had the opportunity to review Year 1 of
Let's Go Geography
.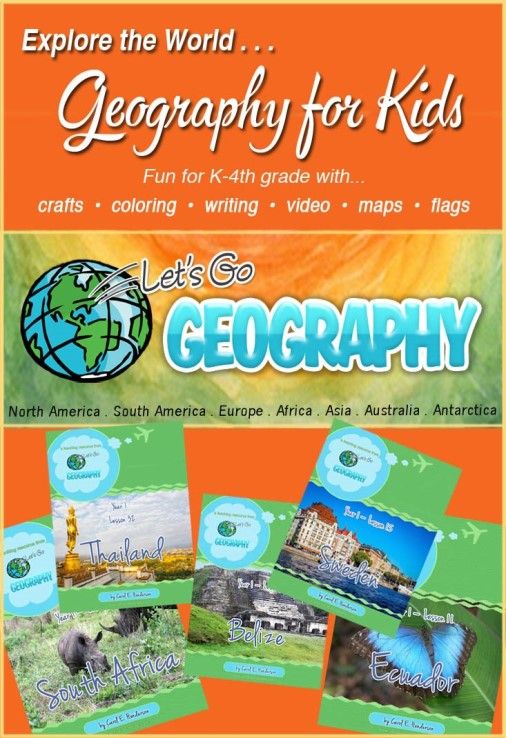 Let's Go Geography is a thirty six week geography course for children in grades Kindergarten through Fourth. In Year 1 we will study a total of 2 U.S. Regions and 26 countries.
Every week you will get a weekly email with links to the next week's curriculum.  The links take you to your online account and from there you can download the lesson.  You can also go into your account at any time for access to all of the lessons that you have purchased.  The lessons are designed to complete one a week.  They take approximately one hour which you can complete on one day or spread the activities over the week.  Also built into the schedule are four breaks for those times you may need to take off. Great for when something unplanned, like a hurricane, disrupts your schedule.  The breaks are scheduled once every nine weeks and if you need to take it earlier than it is on the schedule it makes rescheduling a breeze.
Every lesson begns with various facts about the country or region that you are studying.  This includes the continent, capital, largest city, language(s), population, etc.  Then it includes an itinerary checklist for the lesson and a supply list.
There are six chapters in every lesson: Map It!, The Flag, The Music, Let's Explore, Create, and Printables.
Map It! –  Locate the country/region on a map and label the map.
The Flag – You students learn about the flag and will print out a flag to add to their travel journal.
The Music – Your students will learn music from the country and links are included to watch and listen to them.
Let's Explore – Your students will explore the area and learn more facts about the country or region that you are studying.  There are pictures and links are provided with the lessons as well as other resources to check out.
Create – Fun, hands-on activities!  They range from coloring sheets to crafts.
Printables – Any printables that you need for the lesson such as journaling sheets, coloring pages, flags, etc.
Everything goes into the Travel Journal (a 3 ring binder).  At the end of the year, your student will have a keepsake scrapbook of their travels that they can keep for years to come.
Our Thoughts….
I really like the flexibility of Let's Go Geography!  I can tailor it to fit the needs of my children.  While the program is geared towards Kindergarten to Fourth grades, the lessons can easily be adapted to include younger or older children!  Munchkin is three and loves doing the crafts and looking through the books with her older siblings.  In the picture below she is making a Lighthouse during our study about the Northeast United States.
Another great thing is that there are some resources provided along with the call numbers to find books in the library but no specific list of books.  I can go to our local county and city libraries and check out the books that are currently there on the shelf for the states and countries instead of trying to track down a specific set of books.
All of the kids have thoroughly enjoyed learning about the Northeast US, Hawaii, Canada, and Haiti during our review.  They are looking forward to learning about Nicaragua this week.
Social Media Links:
Please click the banner below for more Homeschool Review Crew reviews of Let's Go Geography.