The Pencil Grip, Inc. sent my family a 12 pack of Kwik Stix (in classic) to review.  Also, included in the box was a sample dark blue Classic Kwik Stix and a pencil grip.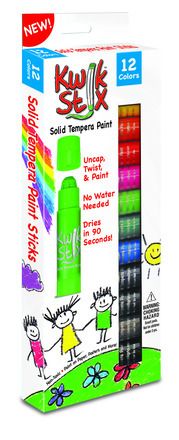 Kwik Stix are great fun for toddlers to adults!  They are a big hit in my house!  The kids love them because they get to paint more.  I love them because there is little to no mess, no water to be dumped, no paint everywhere, and they dry quickly!
One of the first things you probably do when you hear those dreaded words "Can I paint?" is cringe.  I know I do, even if I don't show it!  With Kwik Stix I found myself saying yes to the question nearly every time they asked.  The girls were happy cause they were getting to paint more.  I was happy because I do not have to worry about them getting paint everywhere since it doesn't.  Recently, the kids painted with regular paint, they got paint on my brand new pair of shoes.  I don't even know how that happened because my shoes were no where near them and the paint.  If you do get Kwix Stix paint on the table (like painting by the edges of the paper) it is easily cleaned up.  I had the kids keep a sheet a paper behind what they are working on to help minimize that and it worked out well.  It is even safe to let a toddler paint!  My two year old was excited to use them.
This is Lil' Bit and Daddy working together on a picture with Kwik Stix.
Kwik Stix are about the size of a glue stick and kids of any age can easily use them.  They have caps like glue sticks do and you can reveal as much or as a little of the paint as you want with the twist bottom.  Even better is they do not need water!  No more worrying about a glass of water being knocked over.  Another thing that I liked is that when a color is colored over another color that is still wet the paint doesn't transfer to each other.  For example you could paint with the yellow stick over the black on your paper and your yellow is still yellow!
The 2 year old painting with Kwik Stix.
Another awesome thing is that when creations are created they are dry within 90 seconds!  Yes, 90 seconds!   The majority of the time I found that it didn't even take the full 90 seconds to dry.  A very happy momma here!  Kwik Stix will make a great addition to any household, classroom, and/or co-op because you can paint items and no more hanging artwork and waiting for them to dry or worrying about getting paint somewhere in the car because it wasn't quite dry when you take home the artwork.
Lil' Bit & Sweet Pea
Peanut and her crocodile.
Besides the Classic set, Kwik Stix is available in Neon and Metalix colors.  In addition to the 12 count Classic Kwik Stix, Classic is also available in 6 or 96 counts.  The 96 count Classic is a class pack and you get 8 pieces of each color.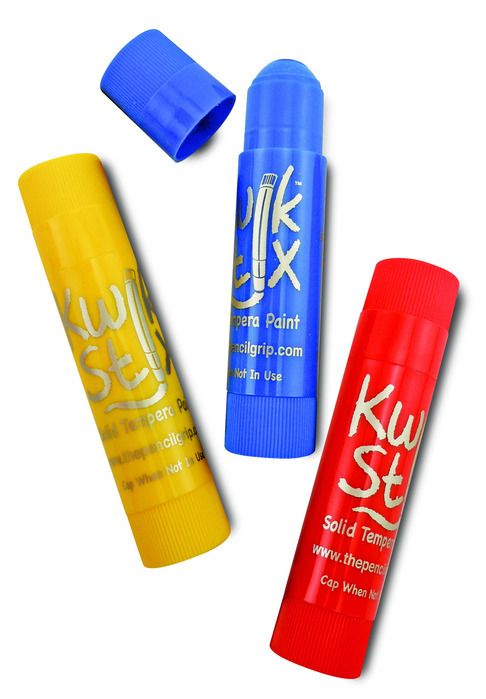 Website:  http://www.thepencilgrip.com
Facebook:  https://www.facebook.com/thepencilgrip
Pinterest:   : https://www.pinterest.com/KwikStixPaint/
Twitter:  https://twitter.com/ThePencilGrip @ThePencilGrip
Please click the banner below to read additional Kwik Stix reviews!